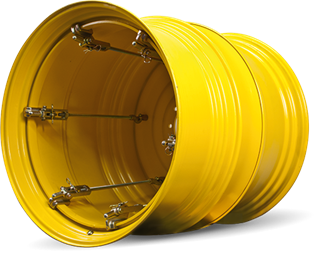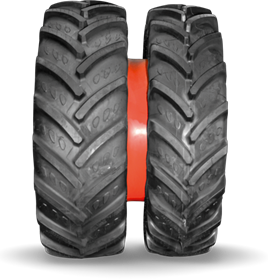 AP+ distance ring
 At NDI Group A/S in Denmark we have developed a new product; the AP+ distance ring. This ensures an even better fitment between the AP+ Dual Wheel and the mother-wheel, due to it being shaped conically.
Benefits the farmer
 The AP+ distance ring has more advantages besides better fitment against the mother-wheel. Demounting the AP+ Dual Wheel is a stress-free task – by using the supplied locking handle, in the designated "demounting hole", you are able to easily loosen the dual wheel. At NDI Group A/S we are continuesly developing and improving our AP+ Dual Wheels, as well as our custom made agricultural wheels. The AP+ distance rings are available in more than 100 different sizes and the widths vary from 24" to 42" - in an ever-growing product line.
Less soil tractosis – Better soil and improved crop outcome
Better traction – More land will be worked with less kilometers, fuel savings
Great stability - Better work safety on steep stopes
Less wheel skidding – Less wear down of the tire, less muddy soil
Mounting – By only one person
Better tire fastening – Lesser probability of spinning of the rims on powerful tractors
Rims and design – Tailor made for the costumers need
First-class quality – Own production and TÜV approved 
Manufacturing combined in Brørup, Denmark
The AP+ distance rings are always adapted to the unique rim types. At NDI Group A/S we continue developing the product, as well as the tools and machinery, which are able to custom manufacture the AP+ distance rings. Today we are the market leader for dual wheels on the agricultural market in Denmark.
Size
Dimensions
Clamps
Distancering
Distancering
Distancering
Distancering
Distancering
Distancering
185 mm
235 mm
285 mm
335 mm
385 mm
435 mm
24"
10x24
2
•
•
 
 
 
 
12x24
2
•
•
•
•
 
 
12x24
3
•
•
•
•
 
 
12x24
4
•
•
•
•
 
 
15x24
2
•
•
•
•
 
 
15x24
2
•
•
•
•
•
 
15x24
3
•
•
•
•
•
 
15x24
4
•
•
•
•
•
 
26"
14x26
2
•
•
•
•
 
 
16x26
2
•
•
•
•
 
 
16x26
3
•
•
•
•
 
 
20x26
3
 
•
•
•
• 
 
20x26
4
 
•
•
•
•
 
20x26
6
 
•
•
•
•
 
25x26
6
 
•
•
•
•
 
28"
10x28
2
•
•
•
•
 
 
10x28
3
•
•
•
•
 
 
10x28
4
•
•
•
•
 
 
12x28
2
•
•
•
•
 
 
12x28
3
 
•
•
•
 
 
15x28
2
 
•
•
•
•
 
15x28
3
 
•
•
•
•
 
15x28
4
 
•
•
•
•
 
16x28
4
 
•
•
•
•
 
18x28
3
 
•
•
•
•
 
18x28
4
 
•
•
•
•
 
20x28
3
 
•
•
•
•
 
20x28
4
 
•
•
•
•
 
Size
Dimensions
Clamps
Distancering
Distancering
Distancering
Distancering
Distancering
Distancering
185 mm
235 mm
285 mm
335 mm
385 mm
435 mm
30"
12x30
2
 
•
•
•
•
 
15x30
2
 
•
•
•
•
 
15x30
3
 
•
•
•
•
 
15x30
4
 
•
•
•
•
 
16x30
2
 
•
•
•
•
 
16x30
3
 
•
•
•
•
 
16x30
4
 
•
•
•
•
 
20x30
3
 
•
•
•
•
 
20x30
4
 
•
•
•
•
 
20x30
6
 
•
•
•
•
 
23x30
4
 
•
•
•
•
 
32"
10x32
2
• 
•
 
 
 
 
10x32
4
• 
•
•
 
•
 
21x32
6
 
•
•
•
•
 
27x32
4
 
•
•
•
•
 
27x32
6
 
•
•
•
•
 
27x32
8
 
•
•
•
•
 
34"
15x34
3
 
•
•
•
•
 
15x34
4
 
•
•
•
•
 
16x34
3
 
•
•
•
•
 
16x34
4
 
•
•
•
•
• 
18x34
4
 
•
•
•
•
 
20x34
4
 
•
•
•
•
 
20x34
6
 
•
•
•
•
 
23x34
4
 
•
•
•
•
 
23x34
6
 
•
•
•
•
 
36"
11x36
2
•
•
•
•
 
 
11x36
4
•
•
•
•
 
 
Size
Dimensions
Clamps
Distancering
Distancering
Distancering
Distancering
Distancering
Distancering
185 mm
235 mm
285 mm
335 mm
385 mm
435 mm
38"
12x38
2
 
•
•
•
 •
 
12x38
4
 
•
•
•
 •
• 
15x38
3
 
•
•
•
 •
 
15x38
4
 
•
•
•
 •
 
15x38
6
 
•
•
•
• 
 
18x38
4
 
•
•
•
•
•
18x38
6
 
•
•
•
•
•
20x38
6
 
•
•
•
•
•
23x38
4
 
•
•
•
•
•
23x38
6
 
•
•
•
•
•
25x38
6
 
•
•
•
•
•
27x38
6
 
•
•
•
•
•
42"
10x42
4
 
•
•
•
•
•
16x42
4
 
•
•
•
•
•
16x42
6
 
•
•
•
•
•
18x42
4
 
•
•
•
•
•
18x42
6
 
 
•
•
•
•
20x42
6
 
 
•
•
•
•
23x42
4
 
 
•
•
•
•
23x42
6
 
 
•
•
•
•
25x42
6
 
 
•
•
•
•
30x42
8
 
 
•
•
•
•
46"
10x46
4
 
•
•
•
•
 
10x46
4
 
•
•
•
•
 
10x46
6
 
•
•
•
•
 
12x46
4
 
•
•
•
•
 
12x46
6
 
•
•
•
•
•
16x46
6
 
•
•
•
•
•
18x46
6
 
•
•
•
•
 
Size
Dimensions
Clamps
Distancering
Distancering
Distancering
Distancering
Distancering
Distancering
185 mm
235 mm
285 mm
335 mm
385 mm
435 mm
48"
10x48
4
 
•
•
•
•
 
12x48
4
 
•
•
•
•
 
50"
12x50
4
 
•
•
•
•
 
16x50
6
 
•
•
•
•
 
52"
10x52
4
 
•
•
•
•
 
54"
10x54
4
 
•
•
•
•
 
10x54
6
 
•
•
•
•
 
12x54
4
 
•
•
•
•
•
12x54
6
 
•
•
•
•
•
Size
Dimensions
Clamps
Distancering
Distancering
Distancering
Distancering
Distancering
Distancering
185 mm
235 mm
285 mm
335 mm
385 mm
435 mm
24"
12x24 / 25
3
•
 
 
 
 
 
28"
12x28 / 26
3
•
•
•
 
 
 
15x28 / 25
3
•
•
 
 
 
 
15x28 / 25
4
•
•
 
 
 
 
16x28 / 25
3
•
•
•
 
 
 
15x28 / 26
4
•
•
•
 
 
 
18x28 / 30
4
 
 
 
•
 
 
30"
15x30 / 25
3
 
•
•
 
 
 
15x30 / 25
4
 
•
•
 
 
 
15x30 / 28
3
 
•
•
 
 
 
15x30 / 28
4
 
•
•
 
 
 
34"
15x34 / 26
4
•
•
•
 
 
 
15x34 / 30
3
•
•
•
•
•
 
15x34 / 30
4
•
•
•
•
•
 
18x34 / 30
4
•
•
•
•
•
 
36"
10x36 / 30
2
•
•
 
 
 
 
10x36 / 30
4
•
•
 
 
 
 
38"
12x38 / 26
3
 
•
•
•
•
 
12x38 / 30
4
 
•
•
•
•
 
12x38 / 34
4
 
•
•
•
•
 
15x38 / 30
4
 
•
•
•
•
 
15x38 / 32
4
 
•
•
•
•
 
15x38 / 32
6
 
•
•
•
 
 
15x38 / 34
4
 
•
•
•
•
 
18x38 / 32
4
 
•
•
•
•
 
18x38 / 32
6
 
•
•
•
•
 
18x38 / 34
6
 
•
•
•
•
 
23x38 / 32
4
 
•
•
•
 
 
23x38 / 42
6
 
 
 
•
 
 
Size
Dimensions
Clamps
Distancering
Distancering
Distancering
Distancering
Distancering
Distancering
185 mm
235 mm
285 mm
335 mm
385 mm
435 mm
40"
8x40 / 34
2
 
•
•
•
•
 
42"
18x42 / 32
4
 
•
•
•
 
 
18x42 / 38
4
 
•
•
•
 
 
18x42 / 38
6
 
•
•
•
•
 
23x42 / 38
6
 
•
•
•
•
 
25x42 / 38
6
 
•
•
•
 
 
44"
10x44 / 34
4
 
•
•
•
 
 
10x44 / 38
4
 
•
•
•
 
 
46"
10x46 / 38
4
 
•
•
•
•
 
12x46 / 32
4
 
•
•
•
•
 
12x46 / 38
4
 
•
•
•
•
 
12x46 / 42
4
 
•
•
•
•
 
16x46 / 38
6
 
•
•
•
•
 
16x46 / 42
4
 
•
•
•
•
 
16x46 / 42
6
 
•
•
•
•
 
18x46 / 38
6
 
•
•
•
•
 
18x46 / 42
6
 
•
•
•
•
 
48"
10x48 / 38
4
 
•
•
•
•
 
12x48 / 38
4
 
•
•
•
•
 
12x48 / 42
4
 
•
•
•
•
 
50"
16x50 / 42
6
 
•
•
•
•
 
52"
10x52 / 38
4
 
•
•
•
•
 
54"
10x54 / 38
4
 
•
•
•
•
 
10x54 / 38
6
 
•
•
•
•
 
10x54 / 42
4
 
•
•
•
•
 
10x54 / 42
6
 
•
•
•
•
 
10x54 / 52
4
 
•
 
 
 
 
12x54 / 38
4
 
•
•
•
•
 
12x54 / 42
6
 
•
•
•
•