Assembly of AP+ Dual Wheels:
AP+ Dual Wheels is developed and produced at the NDI Group A/S headquater in Brørup, Denmark, which guarantee high quality, fast delivery and excellent service.
The AP+ Dual Wheel system ensure the highest safety for the operator. One of the reasons for the high safety is the unique mounting system for the AP+ Dual Wheel, it is designed for easy fitting and outside mounting and fastening. This ensures maximum safety for the operator of the vehicle and makes it a stress free task.
The fitting is possible in all angles and there is no need for rotation of the wheel. Wherever the eye nuts are attached to the wheel, connect the hook to the eye nut and overlap with the clamps. In the video below, you can see how to mount the AP+ Dual Wheel and how the mounting system works.
Parts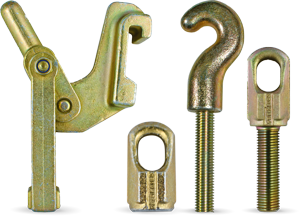 The AP+ Deal Wheel mounting system consists of Eyebolts, Eyenuts, Hooks and Clamps.
Eyebolt: Replaces the current eyebolt in the rim
Eyenuts: Some models use eyenuts instead of eyebolts, but the principle here is the same as the eyebolt
Hook: Connects the eyebolt with the clamp and secure high fastening
Clamp: Ensures that the AP + Dual Wheel is mounted tightly and firmly on the tractor's own rim
These included tools makes the mounting of the AP + Dual Wheels unique and simple. The system is created to make the mounting and demounting as easy and manageable for the operator as possible.  
Assembly video guide